CapaOne Android is the latest solution from CapaSystems, a Danish company. It is an Android MDM solution that allows businesses of all sizes to manage their Android devices through a browser, including configuring devices, installing apps, and managing the security of the devices.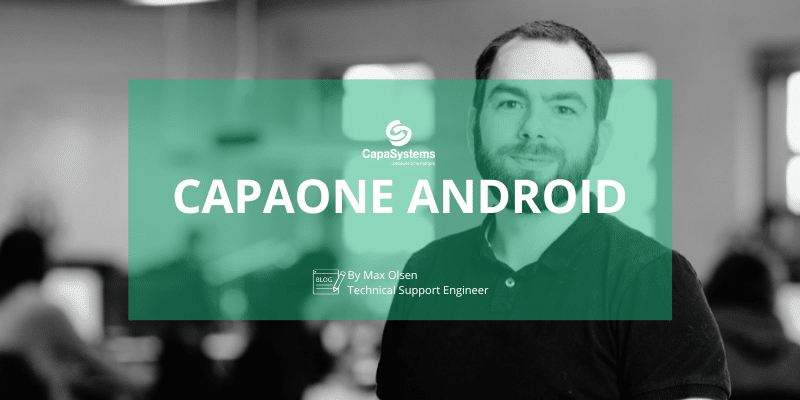 By Max Olsen, Technical Support Engineer, CapaSystems
CapaOne Android has now become part of CapaOne. The development department has created an easy-to-use Android MDM solution that all sizes of companies can use to manage their Android devices, including configuring devices, installing apps, and managing device security. All of this can be tied to one or more groups, making it easier to mass distribute applications and configurations.
CapaOne Android is based on Google's Android Enterprise platform, making it compatible with most Android devices.
You can also integrate Azure to synchronize your users with the CapaOne Portal and link them to a device. If Azure integration is set up, you can use Microsoft Authentication in the enrollment configuration, automatically connecting the user who logs onto the device during Enrollment.
CapaOne Android FAQ
Q: What is a configuration?
A: A configuration can be a password, Bluetooth, or user policy. For example, if you want to make a password policy where the user must use at least six digits, it will look like this: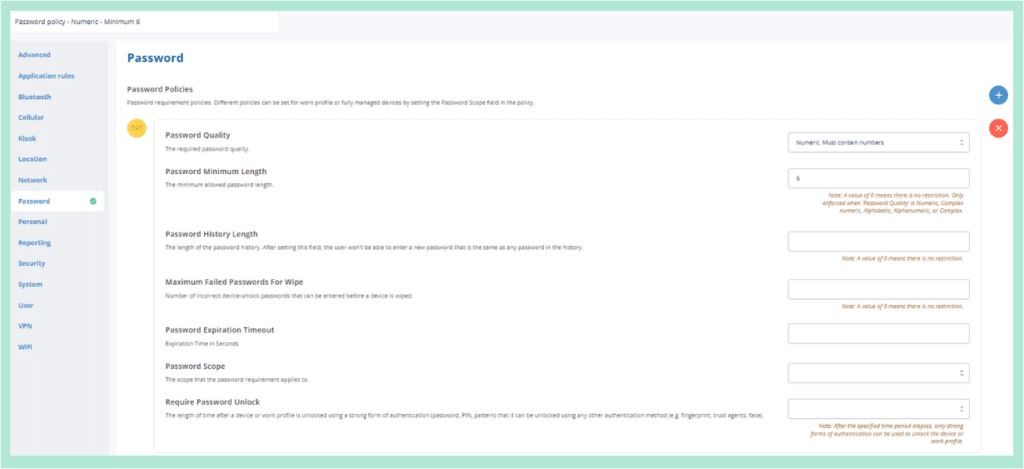 Q: Can I choose what installation type my applications should be?
A: You can choose between the following:
Force Installed. It can't be removed: The IT administrator can only remove the application via CapaOne Android.
PreInstalled. It can be removed: When you choose "PreInstalled," the application is installed on the device if the user has not previously deleted the application from the device. If so, the application will be available for download in the Play Store.
Blocked from installation: This application is blocked from installation. It can also be used for personal configuration, where you block apps.
Available in-store: The application is available in the Play Store.
Required for setup: Must be used to set up/enroll the device. If it fails, the device will not be enrolled.
Automatically installed in KIOSK mode: When this application is installed on the device, it automatically locks in KIOSK mode.
Q: Can I enroll my KNOX and Zero Touch devices?
A: You can enroll KNOX and Zero Touch devices in CapaOne Android. CapaOne Android supports Android Enterprise and KNOX Mobile Enrollment (KME) devices. That means you can enroll any Android device compatible with either of these platforms in CapaOne Android.
To enroll a KNOX or Zero Touch device in CapaOne Android, you must create an enrollment configuration in the CapaOne Portal. Once you have created the enrollment configuration with the desired settings, choose view, select the KNOX or Zero-Touch tab, and follow the guide.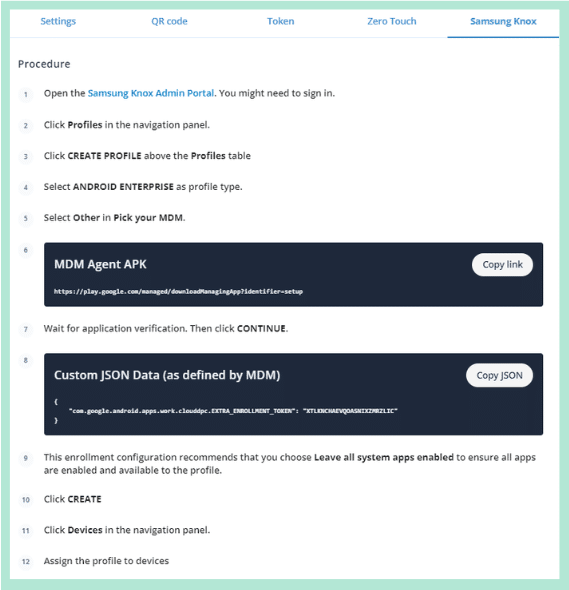 The solution
Android Device Policy is part of Android Enterprise and is used for CapaOne Android. It allows administrators to enforce security policies, manage device settings, and ensure compliance with organizational rules on Android devices used for work purposes.
Here are some key features of the Android Device Policy:
Device Management: Allows IT administrators to manage and monitor Android devices enrolled in the company's management system. That includes deleting devices and applying security updates, among other things
Security Policies: Enforces security measures on devices such as setting screen lock requirements, encrypting data, and applying password policies.
Application Management: Controls app installations and permissions on managed devices to ensure that only approved apps can be installed or used.
Work Profile: With the introduction of Android Work Profile, users can have a separate secure area on their personal or work devices dedicated to work-related apps and data, ensuring a clear separation between personal and work-related content.
How do I get started with CapaOne Android?
To use CapaOne Android, you can create a trial account with 30 days to test the product.
https://portal.capaone.com/trial
If you already have access to the CapaOne Portal, you can go to https://dash.capaone.com/ and, under the Android section, select Enrollment.
You still need to create an Android Enterprise account and link it to CapaOne Android, this must be done first. Then create an enrollment configuration, after which Enrollment can begin on the company's Android devices via QR code, Token, KNOX, or Zero-Touch. (The enrollment configuration can subsequently be edited to point to one or more groups, configurations, or applications.)
Next, create the applications and configurations you want and test them on one or more devices to ensure that it works as you wish. Then everything can be linked to a group, after which the group can subsequently be linked to your enrollment configuration.
Conclusion
CapaOne Android is a comprehensive and powerful MDM solution that can help businesses of all sizes manage their Android devices.
Suppose you're looking for an Android MDM solution. In that case, CapaOne Android is a good choice:
Easy-to-use: CapaOne Android is easy to use even for companies with limited IT resources
Scalability: CapaOne Android is scaled to meet the needs of businesses of all sizes
Security: CapaOne Android is a secure solution that meets the security requirements of businesses in all industries If you're interested in learning more about CapaOne Android, you can visit