Easy and transparent driver update software
CapaOne Drivers is a driver update software from CapaSystems that keeps the company's drivers up to date easily and transparently at all times. Make better use of your IT resources, reinforce your IT security and optimize the performance of your colleagues' computers without being pressured by time. You only need to keep track of the process on a transparent graphic dashboard.
CapaOne Drivers fixes important security vulnerabilities and reinforces your IT security
Supports ALL deployment products — including, for example, CapaInstaller, SCCM and Intune.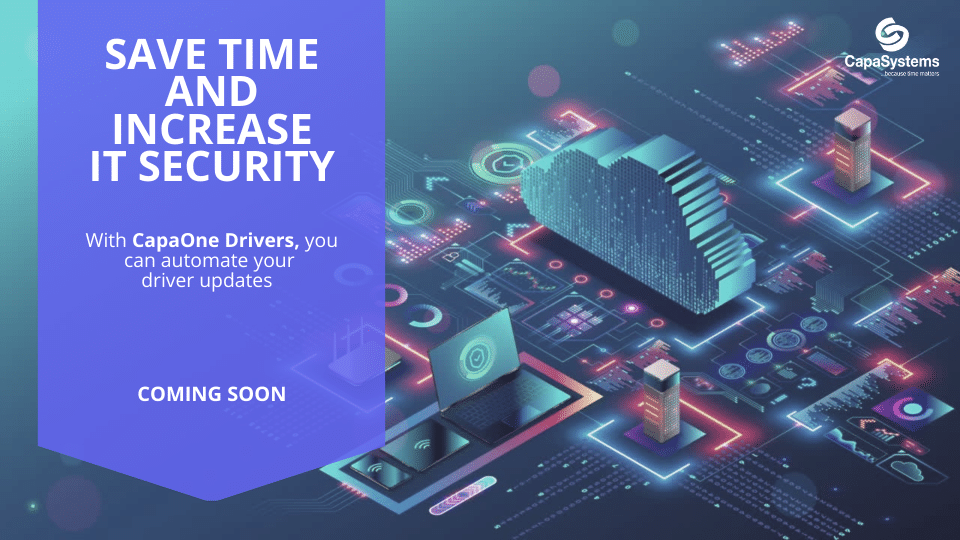 Driver update does not need to be a time-consuming task
Updating drivers could be quite the time-consuming task, in particular, in organisations that use a number of different computer models. CapaOne Drivers eliminates the need for you to manually identify the drivers you need, find them and then download and install them.
The advantage offered by CapaOne Drivers is that the solution automatically registers old drivers and updates ALL of them. This gives a material boost to your company's IT security, while simultaneously improving the performance of your colleagues' computers. And you get the opportunity to make better use of your IT resources.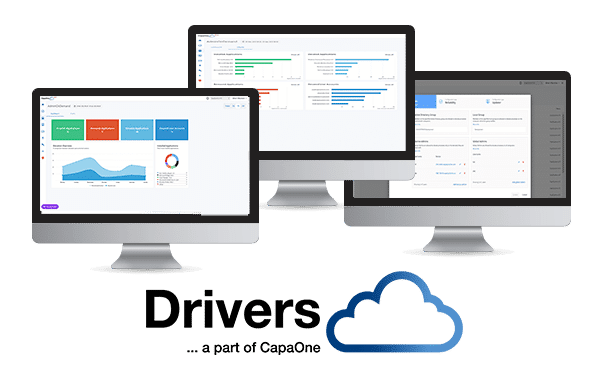 A user-friendly Dashboard gives you an overview
By using driver update software, you no longer need to search for updates yourself continuously. CapaOne Drivers has a dashboard that gives you an overview of which computers can be updated with new drivers. And you just choose if you would like to manually update a specific computer or automate the entire process for selected or all computers at the same time via workflows.
Do not waste your time searching for the proper drivers — time and again. CapaOne Drivers will take care of this task — once and for all.
We refer to this as "Set and Forget", as you can configure CapaOne Drivers to maintain everything automatically.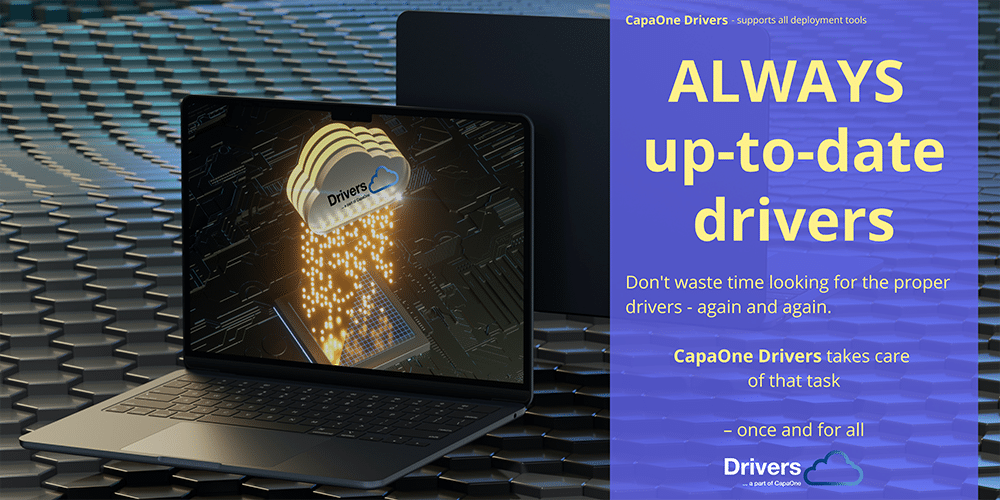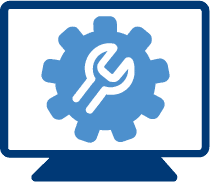 Support of new computer models — automated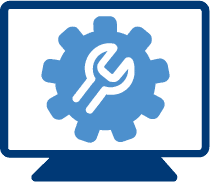 Continuous updating of the company's drivers — easy and manageable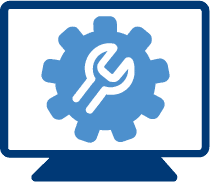 Fixes important security vulnerabilities and ensures stability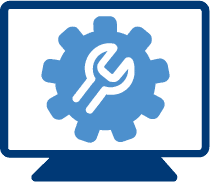 Automated match between computer models and drivers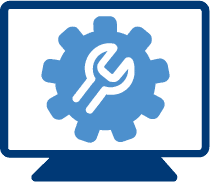 Drivers that are always up to date ensure far better performance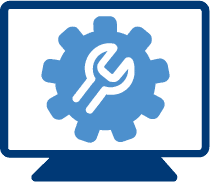 Free access to specialist support
How to install
Get protected right away by following these 3 easy steps:
Step 1
1. Sign up
Sign up in CapaOne Portal
Step 2
2. Download
Download the CapaOne Agent
Step 3
3. Install
Install the CapaOne Agent
What does a driver do?
According to Wikipedia, a driver enables a computer's operating system to communicate with various types of hardware. The purpose of a driver is to make it possible for hardware manufacturers to only design a single type of hardware, which is nevertheless able to work on different operating systems.
Since manufacturers sometimes launch important updates that can make the hardware work better, users should generally strive to keep their drivers up to date.
What is the consequence of a failure to update your drivers?
We know that IT Departments often neglect the duty of searching for new drivers, as this is a rather time-consuming task. Since this job is postponed until the last minute, a frequent consequence is a failure to update drivers on time.
Nevertheless, it is a really good idea to always make sure that your drivers are up to date. This fixes important security vulnerabilities, ensures stability and provides far better performance of the organisation's computers.
How are drivers updated?
Drivers can naturally be updated manually, by identifying the drivers you need, finding them and then downloading and installing them. This perhaps sounds a bit too much — in particular, in an organisation that uses several different computer models. Therefore, many companies opt for automated driver update solutions.
We recommend CapaOne Drivers, which makes the continuous update of the company's drivers both easy and transparent.
Is there any easy and manageable automated driver update solution?
Yes, naturally! Many companies employ solutions that make the task of updating the company's drivers both easy and manageable. One of these solutions is CapaOne Drivers.
It is easy to start using CapaOne Drivers — and there is an option to try it out free of charge for a period of 30 days, when the product is released: CapaOne Portal
CapaOne Drivers offers:
Dashboard with an overview of which computers can be updated with new drivers

Inventory that indicates which drivers will be updated

Option for manual driver update of individual computers

Automated update of selected or of all computers using workflows

An option for users to choose when the installation should start

Support for Windows 10 and 11

Set and Forget — CapaOne Drivers can be configured to automatically maintain the entire process
What does it take to use CapaOne Drivers?
Not much — the agent scans and indicates where there are updates that need to be addressed — and implements them automatically.
And remember, CapaOne Drivers supports ALL deployment tools.
"Drivers is a product developed by CapaSystems and based on CapaOne just like AdminOnDemand, Reliability and Updater. With CapaOne, we have developed a cloud-based platform where we create products that help our customers with complex tasks, without their having to be experts in the area. Our CapaOne products make it possible to add value and upgrade your IT installation regardless of your existing choice of deployment solution, since they support all deployment products — including, for example, CapaInstaller, SCCM or Intune."
– Martin Søndergaard, CPO, CapaSystems
CapaOne Drivers Key Features
Workflows enable you to set up CapaOne Drivers with fully automated update procedures. You decide with the filter feature what must be updated and when by using the workflow.
Technical support is offered in danish and english by our own experts. The product is designed and developed in Denmark by developers from CapaSystems A/S.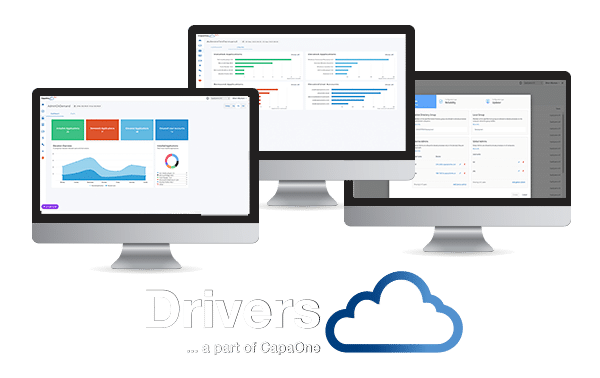 Yes – please show me immediately!
Let us show you how Drivers can help make a difference in your organization and be the tool that strenghens your IT security, close vital security gaps and give you the opportunity for using your IT ressources optimally.
As soon as the product is released feel free to to try CapaOne Drivers FREE of charge for 30 days.