Mobile devices are an essential part of the workflow in most businesses today. Android devices are trendy among employees, as they are affordable, easy to use, and available in various shapes and sizes.
However, with the popularity of mobile devices – including Android devices – comes challenges. As a business, it is essential to ensure that employee Android devices are secure and used in a way that complies with company policies.
That's why you need CapaOne Android. Android MDM (Mobile Device Management) allows businesses to manage and secure their Android devices. Update, deploy applications, and gain stronger security control over the company's mobile devices using Android MDM
No matter the industry or size of your business, you need to secure your mobile devices. And luckily, it doesn't have to be complex or require experts in your IT department.
CapaOne Android offers IT departments a cloud-based, efficient, and straightforward management
of the company's mobile devices and makes it easy to go use. And the price point is deliberately set to be affordable.
With CapaSystems' CapaOne products, you can add value and enrich your IT installation without being an expert, regardless of your choice of existing deployment solution. CapaOne supports all distribution products – including CapaInstaller, SCCM, or Intune.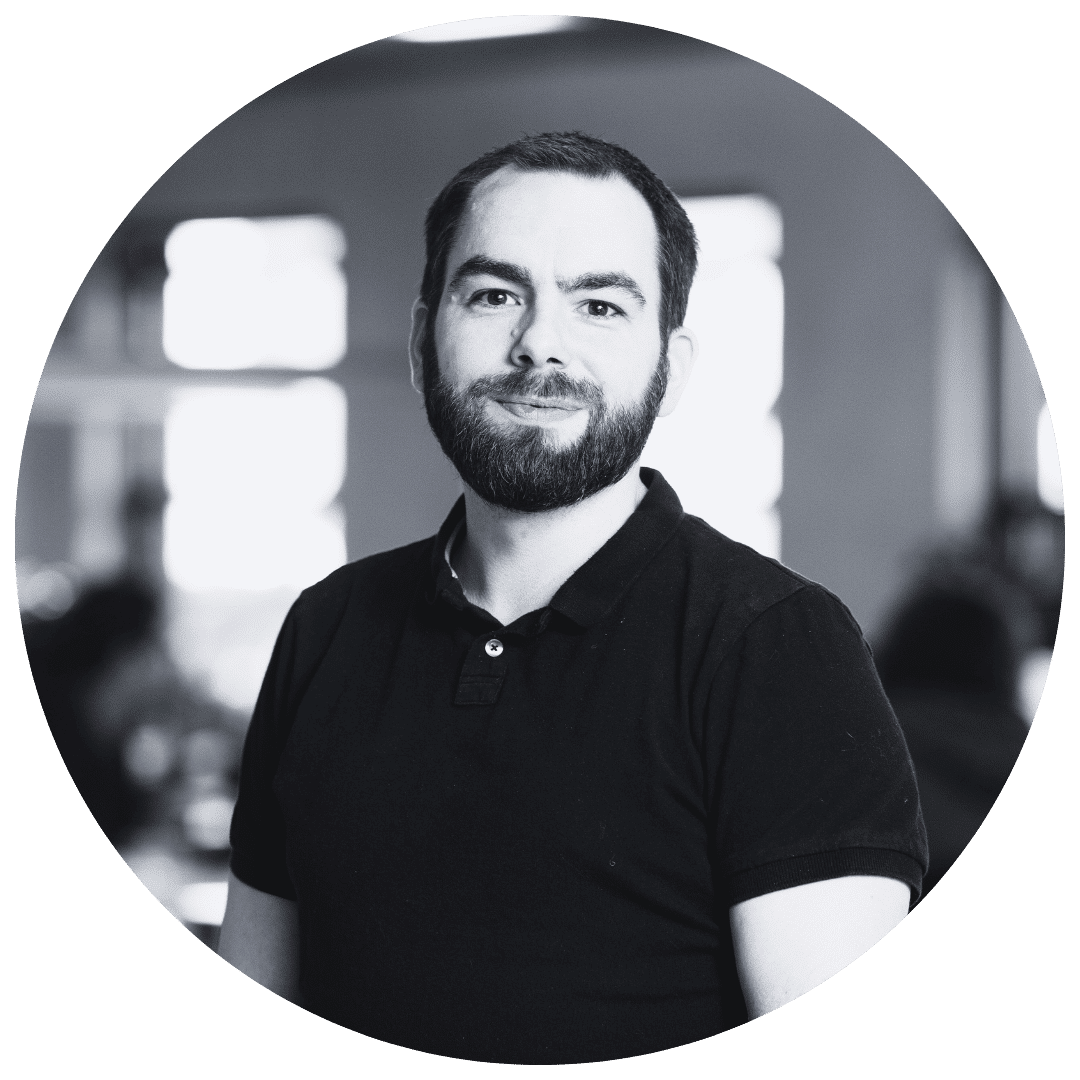 Max Olsen,
Technical Support Engineer, CapaSystems
"CapaOne Android is a comprehensive and powerful MDM
solution that can help businesses of all sizes manage
their Android devices.
Suppose you're looking for an Android MDM solution.
In that case, CapaOne Android is a good choice"
An intuitive dashboard makes everything easier
CapaOne Android gives you a dashboard that gives you the big picture.
Quickly and easily, you can ensure that the devices are up-to-date.
Of course, there is always the opportunity to dive deeper and learn more about the technical specifications.
Why choose CapaOne Android?
Central Administration
Centralized management of settings,
apps, security, and other aspects of Android devices
Work profile
Business applications are managed
(BYOD) through the Android Work profile on personal devices
Bulk Management
To ensure consistency and effective management: Perform actions across all Android devices
Free access to EU-Support
With CapaOne Android, you get FREE access to our EU-Support from specialists
– in both Danish and English
How to get started
Get control of your company's Anroid devices immediately
– follow these three simple steps
What is CapaOne Android?
CapaOne Android is a sophisticated, cloud-based Mobile Device Management (MDM) solution designed to mitigate data security risks while enhancing workforce productivity.
It achieves this by offering centralized control of Android devices for end-users, ensuring that your team has the tools and security protocols to operate efficiently and safely in today's digital landscape.
What device platforms are supported?
CapaSystems is authorized to use Android Management API.
Our easy-to-use CapaOne Android Mobile Device Management enables us to provide optimal performance on all Android devices (version 10 and newer) and to assist businesses with a cost-reductive solution.
What is Android Work Profile?
Android Work Profile is a feature of Android Enterprise. It creates a separate, secure environment on a device, which allows IT administrators to manage and control company data without interfering with the personal use of the device.
With a Work Profile, an organization can enforce policies and restrictions on company data while respecting the user's privacy. The company's applications and data are kept separate from the user's personal apps and information. It is ideal for Bring Your Own Device (BYOD) scenarios, where employees use their personal devices for work purposes.
Note: The availability and specific features of the Android Work Profile can vary depending on the device manufacturer and the version of Android.
What is Android Zero Touch?
Android Zero Touch is an enrollment option provided by Google for Android devices, making it simple for businesses to deploy corporate-owned devices at scale.
With Zero Touch enrollment, Android devices have pre-configured settings specified by the organization, so they're ready to use right out of the box. Therefore, the user doesn't have to manually set up the device, hence the term 'Zero Touch.'
When the user starts the device for the first time, the device automatically downloads a configuration from the cloud that contains all the necessary settings, restrictions, and applications specified by the IT administrators.
This enrollment method is ideal for companies that want to manage large fleets of corporate-owned devices, as it simplifies and streamlines the deployment process, making it faster and more efficient.
Can we manage paid aaplications?
Can we try the solution for FREE?
Yes of course!
You can try CapaOne Android for free for 30 days. During the trial period, you will have ample opportunity to test the solution and assess whether it is as straightforward as we try to describe.
We do not ask for credit card information when you sign up for the trial period.
How much is CapaOne Android at the end of the free trial?
Many MDM solutions typically fall into two categories:
Intricate and costly
or affordable, but come with significantly limited functionalities
CapaOne Android redefines this norm, offering an incredibly cost-efficient MDM solution.
For just 2 € per month per device, you gain access to both basic and advanced features, providing a balanced, value-oriented approach to Mobile Device Management.
"Just like CapaOne Drivers, CapaOne Reliability, CapaOne Updater and CapaOne AdminOnDemand, CapaOne Android is a CapaOne-based product developed by CapaSystems. CapaOne is our cloud-based platform, which offers customers simple IT administration without a need for prior expertise. Our CapaOne products make it possible for you to add value and upgrade your IT installation regardless of your existing choice of deployment solution, since they support all deployment products — including, for example, CapaInstaller, SCCM or Intune."
– Dan Svendsen, CPO, CapaSystems
CapaOne Android Key Features
Enrollment
It is possible to register using QR code,  Zero Touch registration (ZTE), as well as Knox Mobile registration (KME).
Manage Updates
Easy management of applications, handling all updates, managing permissions, and configuring app settings.
Restrictions
Enforcement of robust passwords, immediate lock/unlock capabilities, remote wipe, operating system update administration, and prevention of factory resets.
Passcode
Impose passcode with configurable parameters, including varying degrees of complexity, specific length requirements, established age or validity periods, and tracking of passcode history.
Encryption
Implement stringent measures to ensure full device encryption in line with best practices and recognized industry standards, enhancing data security and integrity across all devices.
CapaOne Security monitors your endpoints' most critical security configurations, including antivirus, encryption, and firewall.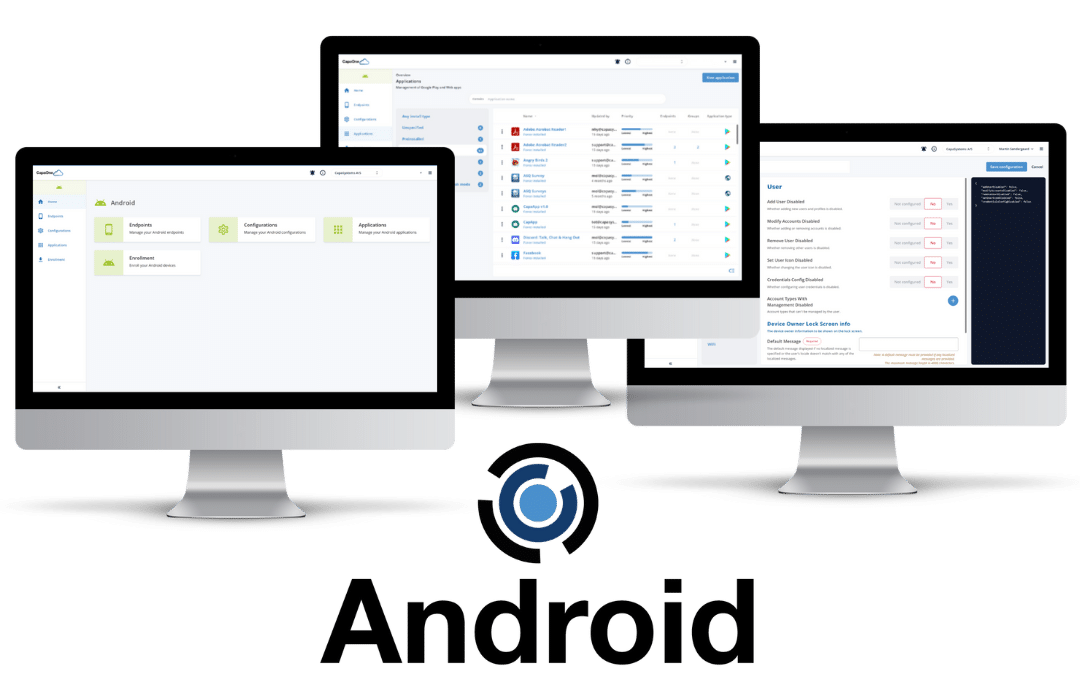 Yes - please show me immediately!
Let us show you how CapaOne Android can help your company and become the tool that provides you with efficient and straightforward management of the company's mobile devices.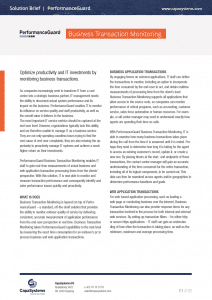 Business Transaction Monitoring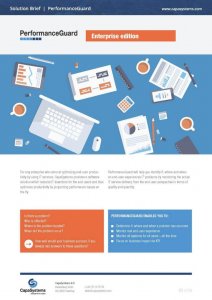 PerformanceGuard Enterprise Edition
PerformanceGuard AutoSteps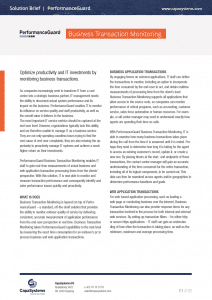 Business Transaction Monitoring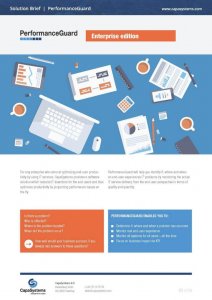 PerformanceGuard Enterprise Edition
PerformanceGuard AutoSteps