CapaOne Drivers is CapaOne's newest tool that can help you streamline the management of the Windows device drivers in your environment, regardless of the deployment solution that you are using. Our CapaOne products support all deployment products, including, for example, CapaInstaller, SCCM or Intune.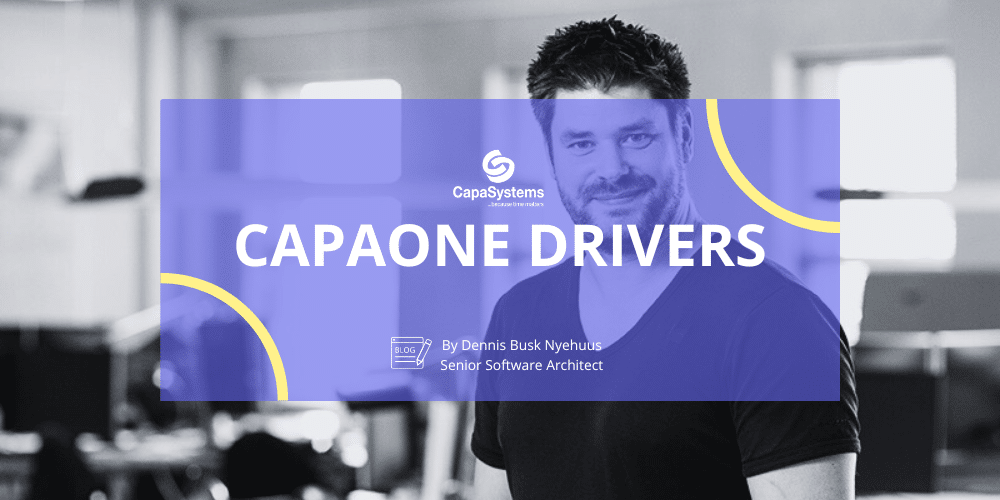 By Dennis Busk Nyehuus, Senior Software Architect, CapaSystems
Three quick FAQ entries:
Q: Have you started doing routine driver updates at your endpoints?
A: In the past, endpoints had preinstalled drivers, whose primary job was to make all hardware at the endpoint operational. Drivers were subsequently updated only if there was something specific that did not work.
These days, keeping your drivers up to date is of much greater importance. Above all, for security reasons, but also because of the constant development of new standards with regard to, e.g., Wi-Fi, that require drivers to be up to date before they can come into service at the endpoint.
Q: Would you be willing to accept brief interruptions of your users' network connection while they are working?
A: Most people will probably reply to this question in the negative. However, this is how most driver update solutions work — with drivers being updated in the background. CapaOne Drivers from CapaSystems automatically alerts users, telling them what is about to happen. And the system is set up in such a way as to prompt the user to give permission before the entire thing gets underway. The same thing applies if any of the drivers requires the Endpoint to reboot. Users are also automatically alerted about reboots, and it is up to them to execute them at once or postpone them. With this solution, you no longer need to fear that a user's network connection will be interrupted at the exact point when they are about to make an important presentation.
Q: Does CapaSystems have any experience with driver updates?
A: Well, you could certainly say that. In addition to the CapaOne Cloud solution, we have worked with Client Management for more than 25 years. We market our own proprietary deployment tool CapaInstaller, and we have been offering driver management with it for more than 5 years. This is also the solution that we are now making available in CapaOne — after some major improvements, and just because it is a Cloud solutions, this means that we can deploy it quickly and to ALL clients, irrespective of which deployment system they are using.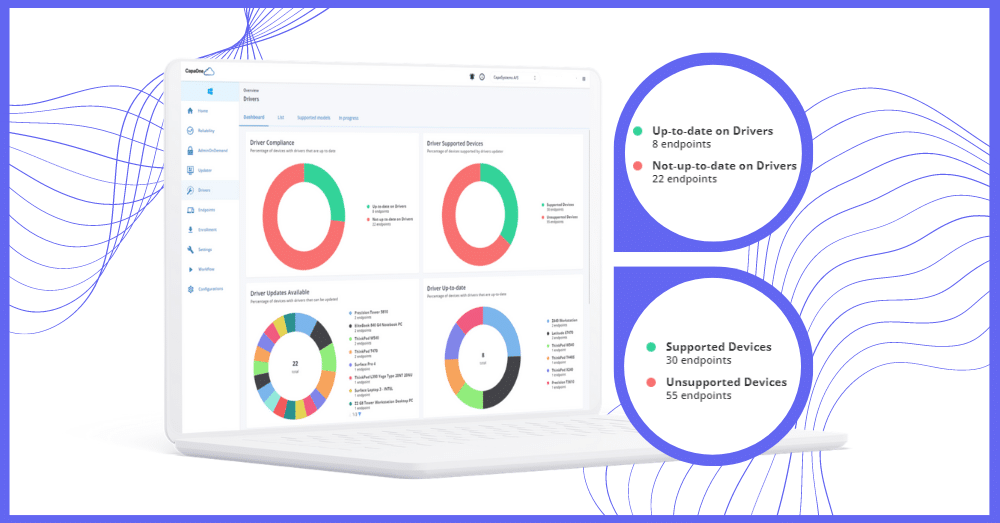 CapaOne Drivers
CapaOne Drivers is a powerful tool that can help you streamline the management of the Windows device drivers in your environment. In this blog, we will talk about what CapaOne Drivers is, how it works and what benefits you can get out of it.
Let's begin by giving a definition of a device driver. A device driver is a piece of software that acts as a communication interface between a hardware device and the operating system at an Endpoint. It is important to keep drivers up to date, both in order to be able to take advantage of new hardware functionalities and optimised performance, but also, in particular, so that you can protect the Endpoint against security vulnerabilities in the drivers.
Keeping your drivers up to date is a time-consuming process that needs to be repeated time and again, as new versions that are more secure and have better performance are being released.
CapaOne Drivers automates this process, allowing you to kick back and monitor your compliance level.
The solution
CapaOne Drivers starts by scanning the computer for hardware and associated driver data. The hardware and drivers report to CapaOne automatically and prepare a match for the computer model and all associated driver versions. You can view this on the general dashboards of all Endpoints, which provide a good overview of Driver Compliance. As a side benefit, all data collected about the hardware and the drivers can be viewed in a structured way for each individual Endpoint as well as for all Endpoints. The advantage here is that you can find all Endpoints with a specific Wi-Fi adapter among your devices and then opt to update them before the others.
When an Endpoint gets a driver patch command, it kicks off by downloading the specific drivers that match the computer model. The drivers can be downloaded either from a neighbouring Endpoint (peering) or directly from CapaOne. The user is notified by default, and then the update starts. If there are one or more drivers requiring the Endpoint to reboot, the user is notified by default of this, as well. And so the Endpoint is updated, and you can follow the entire process in real time from our CapaOne Portal. And should you want to go into full geek mode, there are naturally detailed log files,
How do I get going?
If you just want to start right away, we offer the solution with a 30-day trial period. Our CapaOne Agent is deployed via PowerShell script that is easily implemented in all deployment systems. Then, you will immediately get the same overview of driver compliance at your Endpoints. You can opt to run updates at your Endpoints manually, or you can create a Workflow that can automate that for you, doing it, e.g., on a monthly basis. And you will be good to go in less than an hour.
Where do the drivers come from?
Our drivers come from released DriverPacks from Dell, HP, Lenovo and Microsoft. This means that the drivers for each individual model have been tested together on an equivalent model by the supplier. This gives a quality familiar from Enterprise environments. This is also why suppliers only make these available for their Enterprise models. This is your guarantee that your environment will not be used as a "guinea pig" for new drivers that are released directly by, e.g., Intel or Realtek.
When you implement CapaOne Drivers, it will provide you with an overview of how many of your Endpoints are supported by the solution and of their compliance status. You can see which are the primary hardware categories that your Endpoints lack drivers in. You may, after all, attach less importance to your mouse and keyboard drivers than to the Ethernet and Wi-Fi ones.
Conclusion
CapaOne Drivers from CapaSystems is a powerful tool for updating Endpoint drivers. It is easy to deploy together with your existing deployment tool (regardless if it is a Microsoft InTune or Microsoft SCCM) and helps you automate your driver updating and management process. This makes sure that your Endpoints are always running the latest and most secure driver versions. Thus, your IT Department can save time, raise its productivity and economise on driver-related support calls.
Since we have been offering driver management as part of our own proprietary deployment system (CapaInstaller), we have 5 years of experience in automating this — with a top-notch quality. Demand for this service is high, which is the entire reason why we are offering it to clients without CapaInstaller. We want everyone to be able to enjoy our product.
If your organisation is looking for a driver management solution, CapaOne Drivers is definitely worth consideration. And if you are still in doubt, it is also worth keeping in mind that we offer the solution with a 30-day trial period — and that you will be good to go in 10 minutes only. Have fun!