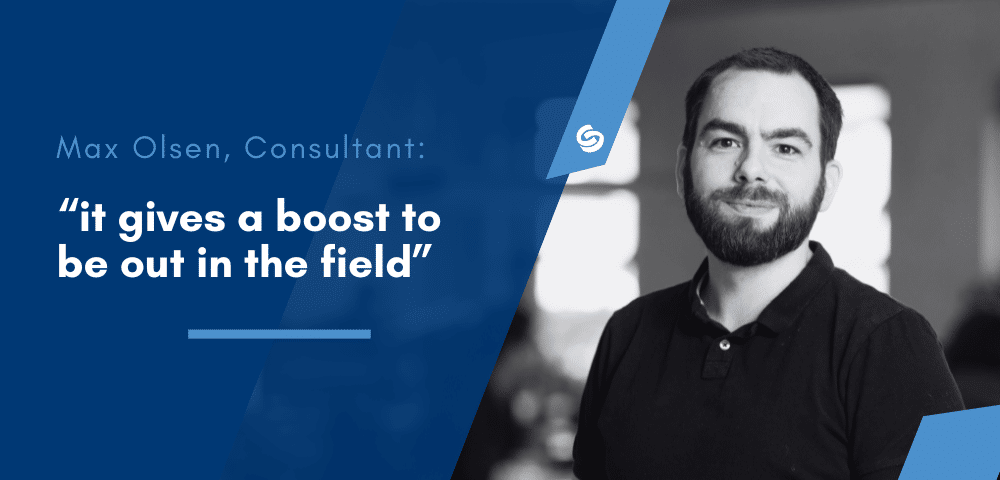 A Journey in Professional Development and Customer Service Excellence
– CapaSystems, this is Max speaking.
The smile is broad in the voice behind the screen at CapaSystems Support (CapaSystems Customer Service). It always is with Max Olsen – but perhaps just a little more than usual.
Max has become the father of the lovely Simon, which brings a twinkle to his eyes – understandably.
Max has acquired a new title at CapaSystems.
We are pleased to announce that Max Olsen has transitioned from the title of Support Engineer to Consultant.
CapaSystems customers know Max from the Support team, where he has demonstrated significant technical talents. Over his time in Support, he has developed significantly, and he is now ready to take the next step into a role as an IT consultant.
In his new role, Max will visit our customers and assist in fine-tuning and addressing technical challenges. He has a broad knowledge of our products and solutions and is adept at conveying complex technical concepts in an understandable manner.
– We are delighted that Max has chosen to take the step into a role as an IT consultant, says Chief Service Officer Dennis Busk Nyehuus, continuing:
– Max is a skilled employee with great potential, and we are confident that he will be a significant asset to our customers – even outside of Support.
Max himself is also excited about his new role:
– I am super happy to have been given this opportunity to use my technical skills not only to help our customers through Support but to go out and make a difference and see their entire installation, he says, continuing:
– It's an exciting challenge, and I have already been out several times – and it gives a boost to be "out in the field."
Internal Talent Development
Max's story exemplifies how it is possible to develop talents into positions like IT consultants in a company like CapaSystems. It's a win-win for all parties. For the company, it's a way to ensure we constantly have the right skills to solve customers' technical challenges. For the employee, it's an opportunity to develop professionally and have challenges in their work life.
Recruiting IT consultants who fit perfectly into a company's culture and needs can be challenging. We can create our talents by allowing employees like Max to develop into consultants. It's an excellent way to ensure CapaSystems employees have the right skills to meet future customer needs.
Remaining a Pillar of Support
As a customer in Support, there is no need to worry – Max will not completely let go. He will still be found behind the screen and on the phone when customers call in.
– I am happy to continue to be available for Support, says Max.
– I have learned a lot from working in Support, and it's essential to provide customers with the best possible advice – whether over the phone or face-to-face as an IT consultant.
– We are pleased that Max continues to be part of the support team. He is a skilled employee with a wealth of knowledge and experience, which will be a valuable resource for both customers and colleagues, concludes Dennis Busk Nyehuus.
Deep Understanding of Our Products
Max Olsen has been with CapaSystems for almost three years. He came with experiences from one of our customers, who had just worked with our products and solutions. Therefore, he already had good knowledge of our products, which has been a significant advantage in his work and will continue to be in his role as a consultant.
So, Max has to keep smiling broadly, as we do at CapaSystems, and congratulate him on a job well done, both with little Simon and Max's daily contribution.