Let CapaSystems help you to the finish line with 8 of them
The Centre for Cyber Security, the Danish Agency for Digital Government, and the Danish Data Protection Authority have jointly set a razor-sharp deadline.
ALL state authorities must comply with 20 minimum IT security requirements by 1 January 2023.
The objective is clear: To secure a standard high level of security across the State.
And the requirements are mandatory.
The 20 minimum technical requirements for IT security for state authorities were issued right before the summer holidays — which now leaves four months to ensure everything is in place.
"Our solutions are simple, intuitive, and do not require much after-sales consulting. I have gone over the list — and the way I see things, we can lend a hand with 8 of the requirements. And help make sure that these important check marks are ticked off in good time," says the Chief Product Officer of CapaSystems, Martin Søndergaard.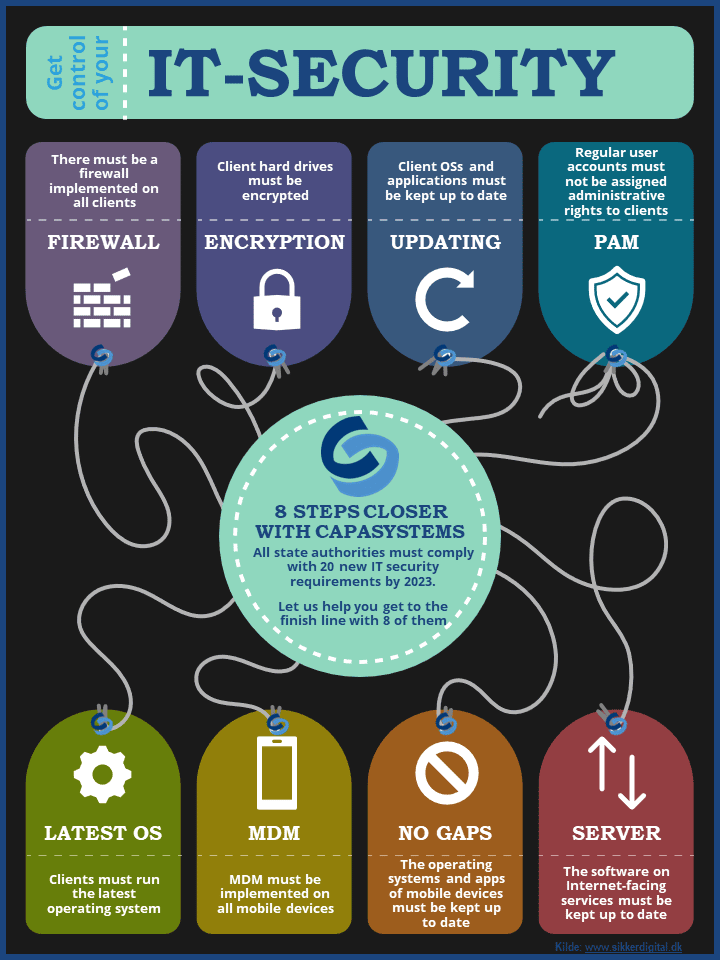 We have collected the 20 minimum requirements – created a checklist that gives you a complete overview of how far you are in the process.
Easy and clear!
Can we achieve the objective before that date?
The short answer is: Yes.
The long answer is: Of course.
The solutions provided by CapaSystems have been securing and optimizing IT at companies in both Denmark and abroad for more than 25 years. Over 35 municipalities in the Nordic Region currently make use of CapaSystems' expertise. You can also draw on our deep insight and industry knowledge; after all, as a Danish company, we possess solid competencies and quite know what we are talking about.
Let us help you get eight steps closer to the objective.